1 Week Group Coaching Intensive

1 week of deep diving into the old limiting beliefs of what you have to offer the world, what your life can be, and what you deserve
1 week of stepping into the Truth of your innate, unchanging, infinite worth
1 week of elevating and expanding your knowing of how worthy you are of every good thing
1 week of stepping into the BEing of this worthiness - elevating how you live, how you show up, how you treat yourself, how you care for yourself as the woman who deeply knows her worth & value
This program will be a beautiful blend of trauma-informed mental wellness practices, faith & community with Devoney as your guide.
March 27-31
**Pre Sale Price: $77**
Price Will Go Up to $111 on 3/19
Save My Spot
BLOOM🌻
8 week group coaching experience to help you know you're enough & grow your confidence
Program Dates: April 24-June 16, 2023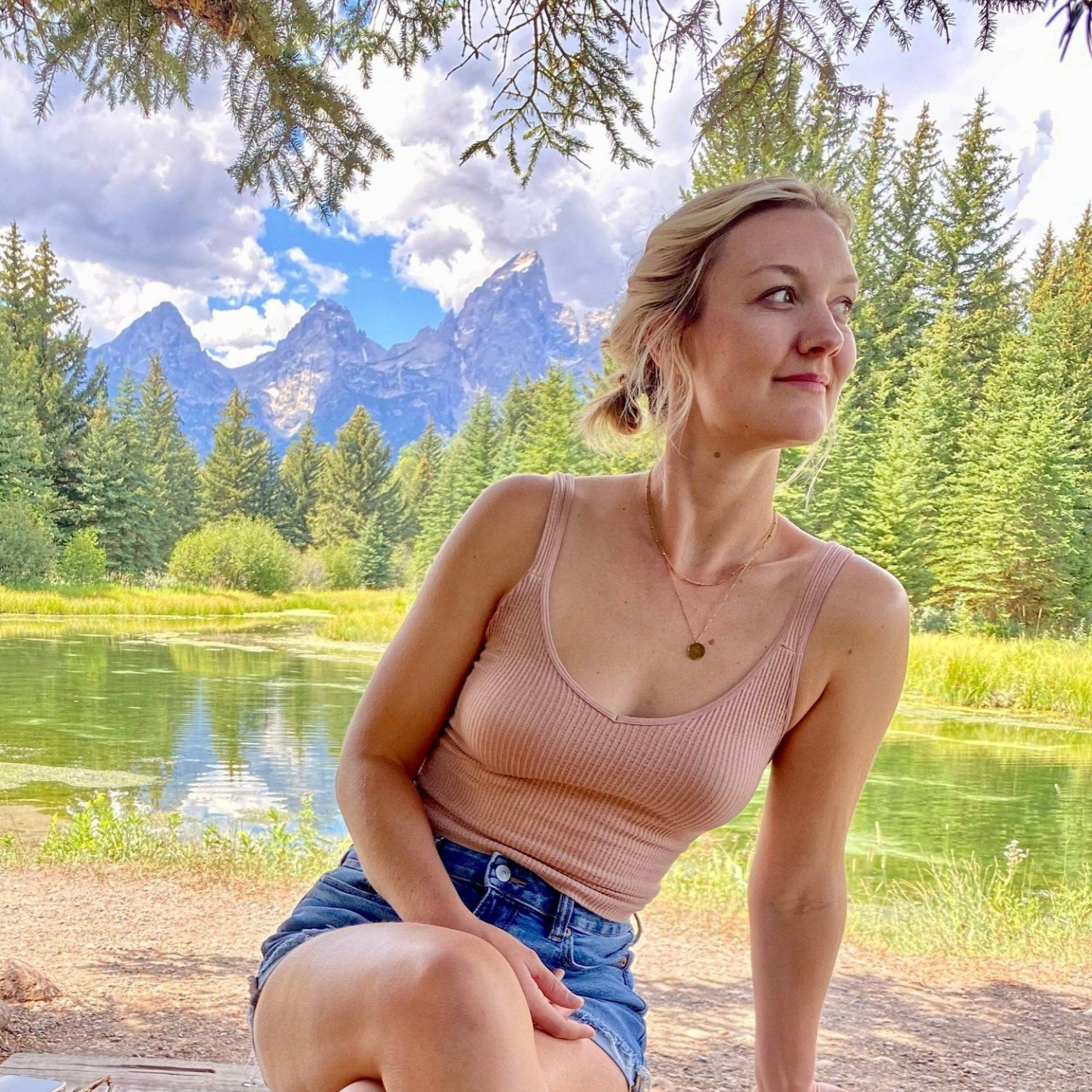 Imagine breaking free from…
Doubting yourself constantly

Questioning your interactions, what you're saying & thinking about interactions hours after

Overthinking & over analyzing what you "should" say and how you "should" act

Filtering yourself & not telling people your honest thoughts

Feeling like you always have to say yes because you're worried about upsetting people or hurting people's feelings

Questioning speaking up & sharing your thoughts/ideas

Constantly worrying about what other people are thinking about you

Putting off your goals by scrolling, avoiding, and wasting time on other things
Imagine if…
You felt confident & secure in speaking up, sharing your feelings and ideas, being your quirky, bold self

You felt excited and confident in being more outgoing at social events - making that joke, starting a convo, texting that new friend to hang out & get coffee

You could confidently say no to commitments/events/heping instead of impulsively saying yes to everyone and everything

You deeply believed you are worthy and enough and you felt so secure and confident in who you are

You feel so validated in yourself - you don't need everyone to like you and you don't seek approval from guys, coworkers, random friends

You worried less about what other people are thinking about you - allowing you to be present, to enjoy yourself, to really authentically connect with others & genuinely have more fun too

You felt FREE to be you, free to speak up, free to just BE

You felt like you truly have so much value to share & that your ideas are awesome & deserve to be shared with people at work

You know your worth, you know what you expect from the people around you & you set healthy boundaries & expectations to make sure you're in healthy, uplifting relationships

You have daily, healthy routines that you stick to that help you show up to your day feeling empowered, motivated & so confident in yourself

You take steps every day towards your goals & dreams - fear does not have a hold on you.

You take action & steps towards the vision you have & the dreams you have every day
Every Week You'll Get:
Guided Practice: A short, practical guided experience or tool to add to your confidence growth toolbox (meditation, self compassion practice, affirmations)

Journal Prompts & Affirmations: Multiple times throughout the week, you'll receive journal prompts & affirmations to support your confidence breakthrough and to dive deeper into our topic of the week
Weekly Training: Dedicated time to dive deep into new tools & concepts, practice these tools, ask all your questions, get on the spot coaching, and be encouraged by your community (2 x Zoom Trainings, 4 x Audio Trainings)

Modules will include topics such as:

Nervous System Regulation & Body-Based Tools, Moving From Being Your Own Worst Critic to Befriending Yourself - Creating Kinder Self Talk, Identifying Your Strengths & Gifts, Embracing Your Weird & Who You Are, Expressing Yourself & Setting Healthy Boundaries

Voxer Support: A group audio/text chat to check in, be held accountable, feel encouraged, and ask me questions. We set Monday goals, have check ins and celebrate wins at the end of the week. This is also where you can ask any/every question you have about what we're learning and practicing.
Mindset & Mental Wellness Tools
Trauma-Informed, Body Based Practices
Coaching With a Trained Therapist & Life Coach
Community With Growth-Minded Women
Throughout BLOOM You'll Receive:
An intimate, small group setting to connect with other women sharing their real, raw journey with you

A safe space to show up, coffee in hand, yoga pants on - a come exactly as you are space with no judgment to connect, share, deep dive & grow

Live coaching from Devoney in our group chat throughout the week to support you in actually practicing & implementing what you're learning

Accountability & encouragement to make moves towards the goals that feel really important to you

Support in creating simple, daily routines that allow you to start the day feeling good & showing up as your best self

A positive, uplifting space to focus on your personal growth & goals

Your go to toolkit of effective, simple confidence growth & mental wellness tools

Go to resource library for journal prompts, affirmations, and meditations

A sense of community & connection that we're all craving

BLOOM Workbook with journaling, tools, and exercises to dig in to our trainings & really apply them in your life
About Your Coach, Devoney
Hey friend, I see you & I've been right where you are. I've felt like I was stuck in self doubt, questioning myself all the time, filtering myself, holding myself back and being so hard on myself.
All I wanted was to be like those girls who were just themselves - they were confident, they knew who they were and they weren't afraid to to show it. I felt constant doubt & anxiety about how I was interacting with people, what they were thinking & I so badly wanted to just be myself, speak what was on my mind, let go of all the filters & feel free - genuinely not caring about what other people thought because I knew who I was & I loved who I was.
Friend, it's possible to start being you, no filters. It's possible to speak up for yourself. It's possible to just be you, share your stories & jokes confidently. To feel free. To feel comfortable in who you are and what you have to say. To feel at peace with who you are. To know you're going to fu** up and that that literally has no impact on your goodness, your worth or who you are - it just means you're human... ahhh deep exhale. To feel so present and in the moment instead of replaying scenarios and weighing out the best responses. It's possible, love.
It's been a journey my friend. My life experiences, my own healing journey, my heartbreaks & triumphs, my deep dark seasons of anxiety & insecurity, grad school, working towards my clinical license & sharing this work with others. This work is my heart & soul & I'd love to share it with you. I'd love to support you in learning what I've learned throughout my life, but in a shorter timeline. I'd love to support you in stepping into your enough-ness. I'd love to support you in stepping into new levels of confidence, without quite so many bumps and bruises as I did.
BLOOM is for the woman ready to step into:
start stepping into your true, God given identity and seeing yourself as the worthy, valuable light that you are

speaking up confidently - sharing her thoughts & ideas at work & in her relationships

being kinder to herself & having kinder self talk - breaking free from her inner critic

setting boundaries & saying no without all the guilt & feeling selfish

making choices that you know are right now you even if people might judge you or not like it

feeling empowered & knowing just what to do & what tools to use in moments of insecurity or overthinking

know exactly what to do when your mind tries to take you down rabbit holes of overthinking & self doubting

start being the woman who says she's going to do the things & she follows thru, she takes the steps & makes the moves even when she's nervous

having healthy, daily confidence building, mental wellness routines that pour into her cup daily

having high level support, encouragement & accountability as she lets go of what's not serving her and stepping into new levels of confidence & knowing she is more than enough
In a world full of coaches where everyone claims to be an expert, Devoney is a humble leader. She is gentle in her approach, but knows exactly what questions to ask to guide you to transformations in your life that help you live more wholeheartedly.
Cassie, Business Coach
Talking to Devoney is like talking to your oldest and dearest friend. She lovingly asks questions that guide you toward the confidence and resolve to take action. She gives you easy-to-implement strategies so that can feel a change right way.
Kate, Course Coach
I love the tools presented. They help you express yourself & can be used & helpful in different situations.
You'll walk away with valuable information & there's no pressure to be a certain way!
Previous BLOOM Student
Early Bird Bonus⚡️
Save Your Spot Before 4/12 & Get 2 Weeks of Individual Voxer Coaching With Devoney for Free
Ready to go all in with individual coaching?!
This is the most sacred & high level way to work with me right now.
This is for the woman who is ready to go all in.
She knows she is deeply ready to heal, transform, break free & burn the bridges - there's no turning back to who she has been...
She knows she is meant for higher levels of freedom, expression, confidence, love, worthiness... and she's ready to do the work...
She is ready to BE the woman she's been dreaming & wishing about for years...
She's ready... and she knows she doesn't want to go it alone.
She wants a warm, empowering, uplifting mentor to help her release these old layers, patterns, habits, limits & to walk with her into these higher, deeper, expansive, new ways of BEing.
She wants to walk with someone who will completely validate and acknowledge the challenges and also walk with her forward, side by side.
She wants to walk with someone who is highly qualified and who can support her in this deep transformational season.
This is for the woman who is ready to let all the limits go... let all the shoulds go... let all the self judgment go...
and step into the most radical, expansive levels of knowing her enough-ness, feeling so worthy, feeling so loved, feeling confident, and BEing the woman who takes action & makes moves in life, work & relationships...
She's ready.
1:1 Coaching Includes 4 Months of:
1 x 60 minute KICKOFF coaching call to create our game plan & very specific growth goals for our time together

2 x 45 minute deep dive coaching calls every month with a trained therapist who has 8 years of experience in the mental health field to deep dive into the specific goals we create for our time together

Intentional, clear goal setting & roadmap of skills to practice after every call

Voice & Text support for the highest level of personalized coaching, mindset support, accountability & support as you implement the new skills you're building every day

Weekly goal setting & accountability (related to creating your routines, healing people pleasing, setting boundaries, speaking up, expressing yourself & being your most authentic self)

Free access to BLOOM & any other programs offered while working together
$1555
Payment Plans are Available
Email Devoney for More Info